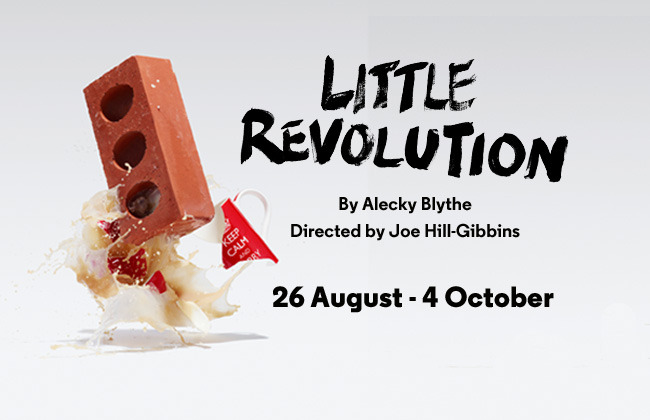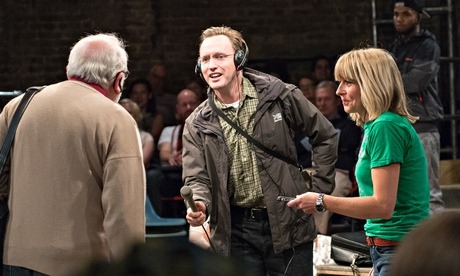 RUFUS WRIGHT KICKS OFF A LITTLE REVOLUTION AT THE ALMEIDA

Last week, Alecky Blythe's Little Revolution opened at the Almeida with our own Rufus Wright as a varied array of characters. Focusing on Hackney's part in the London riots of 2011, Little Revolution follows Blythe's ground-breaking London Road in its use of reproducing verbatim recordings taken from those directly involved in the devastating events. Director Joe Hill-Gibbins successfully transforms the Almeida into an intimate, rough and ready theatre-in-the-round, with a community centre vibe. Having received some fabulous reviews, Little Revolution is an often highly comedic production whichaddresses some of the capital's continuing social issues front on.
"the richest source of laughs is the versatile Rufus Wright, painfully exact whether he's a reporter for a German magazine, an earnest BBC journalist, a tetchy policeman or a bemused Romanian bystander." Henry Hitchings, EVENING STANDARD, ***
"[Joe Hill-Gibbons'] reconfiguring the Almeida as a sort of scruffy, in-the-round youth centre [and] his professional cast – all playing multiple roles – is excellent." Andrzej Lukowski, TIME OUT, ****
"An absolutely compelling 90 minutes…" Dominic Cavendish, THE TELEGRAPH, ****
Little Revolution plays at the Almeida Theatre until the 4th October 2014.