9 CIRCLES – Daniel Bowerbank is suitably shifty as Reeves' discharging lieutenant but it's later, as the unconventional pastor, that he makes his mark, painfully pleading with Reeves to accept Christ. It's a powerful-yet-futile exchange that provides a turning point for the story.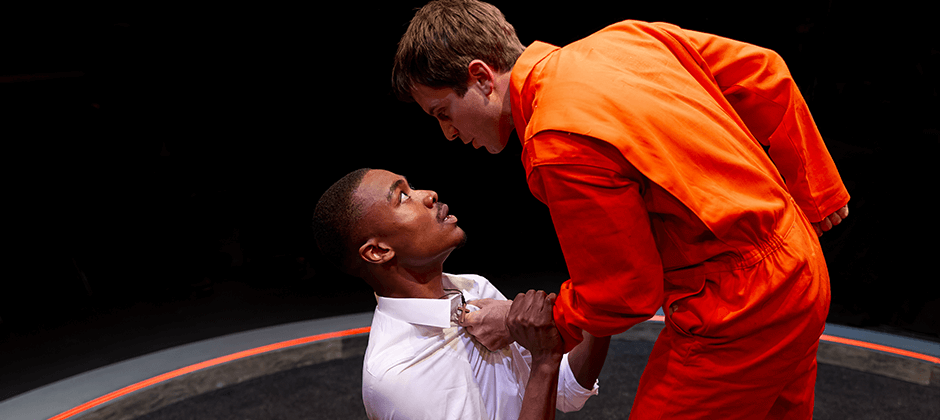 Whats on Stage
4 Stars out of 5
Guy Masterson's psychological thriller runs until 23 July in London and from 3 to 29 August in Edinburgh
Rating: 4 out of 5 stars
04 July 2022
9 Circles
© Mark Douet
Bill Cain's terse, tense thunderclap of a play premieres here trailing a slew of rave reviews from American productions: it's not hard to see why. This is as potent and unforgiving an examination of the collateral damage of war that you're ever likely to encounter. It's both forensic and deeply human, and a cracking piece of theatre. You'll need a strong stomach, but we live in a world where hiding one's head in the sand increasingly feels like the wrong moral choice.
Cain ingeniously uses the concept of Dante's circles of Hell from the Divine Comedy's "Inferno" section to process the story of a young American soldier accused of atrocious war crimes while in Iraq. If that sounds grim, well it is, but the invention of the writing and structure (a disembodied voice announces each ever more hopeless circle as the soldier's life is gradually picked apart), the excellence of Guy Masterson's production and the sheer quality of the acting ensure that this is more than just a horror-trawl through the underbelly of man's inhumanity to man. The play interrogates the question of who ultimately takes responsibility for things done in wartime – is it the soldiers on the ground, some of whom may be pre-damaged by life before they even see combat, or officials higher up the food chain – and does so with clarity and a sense of carefully controlled fury.
If the piece engages more on an intellectual than an emotional level, it's because what the soldier Reeves is accused of having done is so repulsive that it becomes increasingly hard, at least to this viewer, to sympathise with him, especially once the ambiguities of the situation begin to get stripped away. Joshua Collins, who previously played this role in New York, is painfully convincing, giving Reeves a slack-jawed, dead-eyed intensity that haunts as much as it unsettles.
The three other actors – Samara Neely Cohen, David Calvitto and Daniel Bowerbank – all play a couple of roles apiece and they are all spot on. The differences between the characters are very subtle which reinforces the impression that each figure may be a variation on a theme in Reeves's fevered psyche. Neely Cohen is particularly impressive as a pair of women who attempt to help him, or at least connect with him, and as a calmly implacable prosecutor.
Staged in the round, the production forces the audience to bear witness as much as just observe (indeed, in the courtroom scene – or circle – you may find the prosecutor or defence attorney directly addressing you, particularly if you're on the front row): non-engagement is not an option. A clinical central disc (design: Duncan Henderson) is the only set but a myriad of moods and locations is conjured up by Tom Turner's truly stunning lighting, and a moody but unobtrusive soundscape by Jack Arnold.
The play is perhaps a little long: despite the brilliance of Collins' performance, the final death scene feels unnecessarily protracted, and the only time when the text verges on exploitative. It's never an easy watch, but it's an essential one. Disturbing, infuriating and often downright horrible. Also, highly recommended.
The Guardian
3 stars out of 5
Park theatre, London
Joshua Collins is magnetic as a US soldier awaiting trial for murder in this hard-hitting drama hamstrung by its loose grip on reality
Horribly watchable … Joshua Collins in 9 Circles. Photograph: Tristram Kenton/The Guardian
Fri 1 Jul 2022 22.00 BST
The title is a riff on Dante's Inferno but there aren't enough circles in hell for the horror contained in Bill Cain's upsetting play. The names have been changed but this is essentially a feverish re-examination of the life, trial and death of US soldier Steven Dale Green, who was convicted in 2009 for killing an Iraqi family and raping the 14-year-old daughter. It's a really tough watch – not without merit but difficult to sit through and with some serious flaws in its composition.
There's a heated intensity to Guy Masterson's tightly calibrated production,held together by Jack Arnold's humming battlecry of a soundscape which slowly engulfs us as the trial approaches. Duncan Henderson's neatly symbolic set frames the action inside a pair of glowing red circles: from the fury of Baghdad to the loneliness of the holding cell, this is the story of a soldier's life that has always, on some level, felt like a kind of imprisonment.
Joshua Collins and Samara Neely-Cohen in 9 Circles. Photograph: Tristram Kenton/The Guardian
As the soldier, Daniel E Reeves, meets with attorneys and lawyers, a seriously creepy pastor and shockingly incompetent army psychiatrists (all played with an eerie sense of disassociation by Samara Neely-Cohen, Daniel Bowerbank and David Calvitto), we start to suspect they might all be a product of Reeves's deeply disturbed psyche. This fuzzy hold on reality makes for a powerful atmosphere but a confusing play. Cain seems to be making an argument about the hypocrisy of war and the culpability of those in authority but it's hard to know which bits to take seriously in a play that's neither fact nor fiction.
Joshua Collins is horribly watchable as the imprisoned Reeves. To simply spend time with this soldier is to begin to humanise him. There's something about the physicality of Collins – who salutes and exercises with robotic precision – that points to how little control a recruit has over his own body. But for all Collins' charisma, there's something that doesn't sit right about telling this story through the soldier's eyes, and giving so little time to the murder victims.
The Stage
3 Stars out of 5
9 Circles review
"Unsettling but eerily current"
REVIEWSJUL 4, 2022PARK THEATRE, LONDON
Joshua Collins in 9 Circles at the Park Theatre, London. Photo: Mark Douet
Gripping morality drama featuring a hypnotic central performance
Written in 2010, Bill Cain's 9 Circles is based on the career of real-life soldier Steven Dale Green who was tried and sentenced for war crimes while serving in Iraq in 2006. In Cain's take on Dante's Inferno, soldier Daniel E Reeves is arrested after attending the funeral of fellow veterans. He is charged with the murder of an Iraqi family while on duty and the rape and murder of their teenage daughter. While awaiting trial, the details of his case horrify the public but Reeves remains unrepentant, while a series of lawyers, preachers and psychiatrists attempt to comprehend his motivation.
Although Cain's gripping drama originally opened in Chicago in the wake of Green's trial, events in Ukraine surrounding the arrest and trial of the 21-year-old Russian soldier Vadim Shishimarin make the play equally as prescient for this UK premiere. The main argument of 9 Circles is one of accountability. As Cain picks away at the morals and ethics of the story, it looks as if Reeves might be a scapegoat, sacrificed to atone for the horrors of a wholly unnecessary war.
It's a difficult story to digest but Guy Masterson's production is sleek and stylish, with a haunting soundscape designed by Jack Arnold. The set is suitably unchallenging, designed by Duncan Henderson to provide a series of holding cells in which Reeves is interrogated and suited to the in-the-round space of the Park90. It all adds up to a theatrical neatness that contrasts hugely with the incomprehensible violence of the story. Reeves is beyond redemption but is he to blame?
Joshua Collins is disturbingly charismatic as Reeves, his Texan drawl insistent and unwavering in his conviction that he is guilty as charged. Daniel Bowerbank is suitably shifty as Reeves' discharging lieutenant but it's later, as the unconventional pastor, that he makes his mark, painfully pleading with Reeves to accept Christ. It's a powerful-yet-futile exchange that provides a turning point for the story.
A steady, focused performance from David Calvitto as an army attorney provides something of an insight into the attitudes of the world outside. For him, Reeves is an opportunity to draw a halt to the war, if only he would re-enlist and undergo a military trial. Samara Neely-Cohen is an understandably nervous public defender when Reeves is initially arrested but later, either as the army shrink or prosecutor, her delivery is a little underpowered, which tends to undermine the urgency of these exchanges.
Cain's play is by no means perfect, and includes a final scene that spreads itself too thinly but Masterson, who achieved success recently in the West End with The Shark Is Broken, handles the material with great care. It may be an unsettling piece, but the themes are eerily current and the central performance riveting.
Theatre Weekly
5 Stars out of 5
Review: 9 Circles at Park Theatre, London
"an exceptionally good play, but it's that central performance from Joshua Collins that really makes it an unmissable piece of theatre"
by Greg Stewart
Reading Time: 4 mins read
The current situation in Europe has seen the subject of war crimes raised more often than usual in the media, and perhaps has people questioning who is really responsible for the crimes of soldiers.  The European Premiere of House of Cards writer Bill Cain's 9 Circles follows success in the US, where the play first debuted in Chicago nine years ago.
It comes to London's Park Theatre under the direction of Guy Masterson, who most recently directed the West End transfer of the Edinburgh Fringe hit The Shark is Broken.  This taught psychological thriller, if the title doesn't give it away, is heavily influenced by Dante and takes much inspiration from Inferno.
A smooth American voice introduces each circle to us; in the first we meet Private Daniel E. Reeves as he receives an honourable discharge from the army in the midst of Operation Iraqi Freedom, by the second he's in a cell in Arlington, accused of unforgivable crimes against Iraqi civilians.  Having already been tried by the media, politicians and public, each subsequent circle serves as Daniel's purgatory, as he creeps towards the trial and eventual inferno.
In each circle Daniel meets 9 Circles' many versions of Virgil, an odd pastor (Daniel Bowerbank), a psychiatrist (Samara Neely Cohen) and an army attorney (David Calvitto) to name just a few.  While they may all be trying to guide Daniel, they do not necessarily have his best intentions at heart.
As we make our way through the circles, we learn more about Daniel.  The all-American Texas boy has a split personality, he doesn't seem to be affected by the horrors of war and leans towards a desire to kill.  So, the question is repeatedly raised, who is ultimately responsible for Daniel's crimes?  The army who gave him weapons, the recruiter who gave him the job just to meet the quota, the psychiatrist who thought drugs were the answer, or perhaps it's someone else entirely.
9 Circles is cleverly written, being just Dantesque enough to deliver the message while at the same time bringing contemporary themes to the fore.  It occasionally lingers too long in one circle, and sometimes you wonder if conversations, such as that between Daniel and his Lieutenant, would actually play out in the way portrayed here.
What keeps the audience gripped though, is an exceptional performance from Joshua Collins as Daniel.  On stage throughout, Collins is mesmerising with a physical performance filled with nuanced ticks that gradually escalate the pain of the character, while somehow managing to garner empathy despite the truly horrific nature of Daniel's crimes.  Collins deep south Texan drawl brings a poetic quality, while his monologues in the final two circles have to be seen to be fully appreciated.
Despite having been written long before the current conflict, 9 Circles couldn't feel more relevant today.  It asks its audience to do some serious soul searching, but what we find as a result could very well be surprising.  This is an exceptionally good play, but it's that central performance from Joshua Collins that really makes it an unmissable piece of theatre.
Broadway World
4 stars out of 5
It's absolutely impossible to be an intellectually passive audience at the European premiere of Bill Cain's play on the hypocrisy of American warfare.
by Cindy Marcolina Jul. 2, 2022
Dante Alighieri built his idea of hell as a colossal conical structure that opens up underneath Jerusalem and reaches the centre of the Earth. He makes his descent steadily, accompanied by Virgil. The further away from Jerusalem, the further away from God and goodness.
A stone's throw from Jerusalem, Iraq and what it represents in the American cultural portfolio is ravaged by conflict. A young soldier puts up a fight before he is honourably discharged. A cold-blooded killer who's completely unbothered by having to make his way through piles of corpses, he is everything the States want in their ranks.
Bill Cain writes a politically intense and thematically complex play that puts on display the hypocrisy and opportunism of American warfare. Based on the real story of Steven Dale Green, 9 Circles presents a country that glorifies combat. It exposes a categorical refusal to deal with the trauma of both employed soldiers and veterans – who are used, discarded, victimised as they please – and the willful neglect of the real victims.
Cain crafts a character whose diagnosed personality disorder and addictive tendencies are identified as bona fide weapons by recruiters who prey on the young. Private Daniel Reeves, played with precise calibration by Joshua Collins, is a fatherless son who had to grow up too fast and stumbled into a minefield.
Collins gives him an untouchable attitude and rampant arrogance that scrapes a superiority complex. A man who deeply craves attention and honour, he can't fathom a repatriation for a crime he maintains he didn't commit.
After all, what's one more violation on the field? Tried for the murder of an Iraqi family and the brutal rape of a 14-year-old girl, his version of hell is crowded with the people he meets on the road to his final sentence. Collins is a machine-gun of words, and his articulate Texas drawl drips with Daniel's fallible reasoning and unempathetic views.
He details his time in Iraq to a number of attorneys who attempt to take his case, revealing the utter incompetence of the military system when it comes to supporting the strain and distress of its troops. His circumstances become a problem only when his crimes grow into a PR disaster.
The president calls him a stain on the United States on national television and he's compared to "another fuck-up from Texas", George W. Bush. His cruelty scares them once it's not targeted towards their common enemy, but his victims are never contemplated in the discourse.
Used as a tool to make a point and haunted by the deaths of the brothers in arms who watched him as he killed and raped, he blames the outcome on the mishandling of his mental health. While other soldiers are lining up to testify against him, he regrets opening up to the army psychologist who sent him on his way, refusing to acknowledge his worries.
The shockingly useless psychologist humanises his traumas but underplays his distressed state. Cain keeps weaving knots in his story. He pinpoints the political fallout of Daniel's situation, but pays little mind to his actual wrongdoings. He exposes a system desperate to place the blame and to avoid any kind of responsibility, while at the same time offering someone who's the perfect product of his context. Cain's criticism is subtle and sharp, but he is also disturbingly resigned to the inevitability of the damage of warfare.
It's absolutely impossible to be an intellectually passive audience. Directed by Guy Masterson, 9 Circles is a bona fide trial of the United States Army. With the action played in the round, the public becomes the jurors, at one point directly addressed by the Prosecutor and the Defence Attorney as they orbit the accused.
Collins delivers an extraordinary performance as the unreliable narrator. On stage from start to end, he introduces an incapability of understanding the moral implications of his actions. He is diligent in his portrayal of a man who was shaped by his training. The side characters (Samara Neely-Cohen, David Calvitto, and Daniel Bowerbank in multiple roles, with Calvitto shining as one of the attorneys) become murky visions playing out for his benefit alone.
Duncan Henderson visually encloses Daniel with a clean and effective set. A neon halo hovers over a carpeted circle that delimits his freedom and a low booming sound (Jack Arnold) greets every person who dares to come close to the Private. Light and darkness accompany Daniel as per Tom Turner's lighting design, cold hues and deep reds imply federal prisons and the rumbling caves of his personal hell.
A good 10 to 15 minutes can be shaved off to get the piece closer to the advertised 90 minutes and ease the redundancy of the message, but it's a striking play with magnetic dialogues that ask very precise questions. Is war worth its human casualties? Is a media circus and a jury of civilians the best way to handle a scandal that could have been prevented? Or is a whole system where the real victims are barely named and acknowledged in a major need of being rebuilt? Get tickets and discuss.
Everything Theatre
5 Stars out of 5
Home » Reviews » Drama » Review: 9 Circles, Park Theatre
Photo credit @ Mark Douet
Author: Dave B in Drama, Fringe Theatre, Reviews 4 July 2022 0 Comments
Summary
Good
An unsettling, sometimes surreal account of a discharged soldier's downfall and mental instability, which is sadly too relevant to current news
User Rating: 4.78 ( 2 votes)
'Inferno', the first part of Dante's 'Divine Comedy', describes his journey through nine circles of hell. 9 Circles charts the journey of Private Daniel E Reeves (Joshua Collins) through his own nine circles of hell.
We begin as Reeves is honourably discharged from the US Army – against his wishes: this is his first circle of hell. His discharge is brought on because he sought help from an Army psychologist (Samara Neely-Cohen) who diagnosed him with a personality disorder. A short time later, he wakes up in a jail cell. Assuming he's had too much to drink the night before, Reeves worries about damage to his car: this is his second circle of hell. We follow him down through hell as he discovers he has now been accused of the rape and murder of a fourteen-year-old girl in Iraq. Through each circle, we learn more about him and his alleged crimes
9 Circles is staged in the round in a simple set from Duncan Henderson; a circle on the floor and a circle hanging above, with lighting designed by Tom Turner. They dim, brighten, flash and move as the circles of hell deepen. Other characters can step in and out of these rings, but they keep Reeves caged. From the opening, he is on stage within the circle. He remains there until the end, even receiving his costume changes from other characters, and changing within the enclosed space from army fatigues to civvies to prison jumpsuit. It is Collins as Reeves who holds all of this together, bringing intensity, and doggedness to the role. It's not a comfortable play to watch. In the small space of Park 90, Collins turns to speak to each section of the audience and often pauses to make eye contact, appearing to speak as if it were directly to individual audience members and adding to the intensity.
Some scenes and conversations seem surreal. Early in the play, in the first of multiple roles, David Calvitto plays a senior army lawyer. He comes to speak with Reeves as he wants to use his case to make a larger point about the war and the merits, or lack thereof, of George W Bush. He seems to have convinced Reeves, or at least made a connection, but then his character is never heard from again, and later the actor plays a different lawyer. In between, there is an odd section where Reeves is visited by a Pastor (Daniel Bowerbank) who has an addiction to internet pornography.
What is going on? Are we in a version of reality unreliably narrated by Reeves? Are we on a metaphorical journey, or are these meant to be taken at face value? I wonder if familiarity with the details of 'Dante's Inferno' is needed to fully understand and appreciate this play. Or maybe we are simply to be left with questions?
It feels like 9 Circles, while using Reeves to make its point about a young unstable man who was sent to the other side of the world to kill, often appears to forget the victims of this crime. Even accepting the argument that Reeves is a victim of the military-industrial complex, is he more of a victim than a raped, murdered 14-year-old girl? 9 Circles does come back to the victims as the play ends but it feels too late and with just a little too much explaining, if not justifying.
With today's headlines full of news of ongoing war crimes trials in Ukraine, Bill Cain's 2010 play based on a real-life incident in Iraq remains, unfortunately, timely and just as relevant.
The Understudy
5 Stars out of 5
July 05, 2022
0
by Chris Dobson. 
Seeing 9 Circles at Park Theatre is akin to watching nine short plays, all thematically linked yet distinct. The structure of the play, which is written by Bill Cain and directed by Guy Masterson, is based on Dante's Inferno, in which the protagonist descends through the nine circles of hell. Here, the action centres around Daniel E. Reeves (Joshua Collins), a repatriated US Army Private who is accused of committing horrific war crimes in Iraq. Collins plays Reeves with a chilling intensity, and it is immediately apparent that he suffers from some form of personality disorder.
9 Circles at the Park Theatre. Photo by Mark Douet 
Duncan Henderson's minimalist set design is complemented by Tom Turner's superb use of lighting and subtle music by Jack Arnold. The dialogue fizzes as Reeves interacts with various individuals: An earnest church pastor (Daniel Bowerbank), a smooth-talking lawyer (David Calvitto), a brutally honest psychiatrist (Samara Neely Cohen). All the performances (and American accents) are strong, but Collins steals the show.
9 Circles is a troubling, disturbing watch, unafraid to confront difficult issues, most notably the pointless waste of lives in the Iraq War, on both sides. More generally, the play explores how the state fails the soldiers it sends to foreign lands on orders to kill, with little mental health support provided. Yes, the context here is Americans in Iraq, but it is relevant also in a British-Afghan or Ukrainian-Russian setting. Bill Cain's anger at the hypocrisy of those who judge participants in a war from the side-lines is palpable.
9 Circles at the Park Theatre. Photo by Mark Douet 
Some might find the almost sympathetic positioning of Reeves problematic, but Collins never tries to portray him in a way which seeks to elicit compassion; 9 Circles does not strive for pity, or disgust, or any other particular emotion. Instead, it simply tries to explain that thorny topic most famously explored by Hannah Arendt in 1963: The banality of evil. In this view of the play, Reeves is a 21st century Adolf Eichmann, on trial for his own crimes but also, symbolically, standing in for the crimes of those who instigated the war.
Some scenes – or circles – are quiet, exploring topics such as the role religion can play (if any) in the rehabilitation or comforting of convicted criminals. Other scenes are loud, for instance Reeves's court trial, which to this reviewer was reminiscent of County Hall's Witness for the Prosecution. Running until July 23rd, 9 Circles simply has to be seen, especially if you want to better understand why some men continue to feel the need to kill and inflict harm.
9 Circles is at Park Theatre until 23 July
The Reviews Hub
4 Stars out of 5
9 Circles – Park Theatre, London
Reviewer: Scott Matthewman
The Reviews Hub – London04/07/2022
0 2 minutes read
Image: Mark Douet
Writer: Bill Cain
Director: Guy Masterson
The writer Dante Alighieri conceived of the descent into hell as a series of nine circles, the descent through which makes it all the more inevitable that one could never escape.
That allegory works well for the story of Private Daniel Reeves (Joshua Collins), honourably discharged from the US Army during the Iraq war when his personality disorder – a lack of concern for the killing of others – becomes too much for his superiors to bear, even though it also makes him ideal for the sort of mindless role the army needs.
Returned to the US and set adrift, we next meet Reeves in a police cell – there, he believes, for driving under the influence. But another charge hangs over him: that while in Iraq, he raped a 14-year-old girl and murdered her family. If found guilty, he faces death by lethal injection.
Writer Bill Cain drip feeds facts about both the case and Reeves' history of poor mental health through a succession of duologues the private has with a succession of lawyers, a psychologist and a rather unorthodox pastor. Collins is the sole constant, his performance magnetic, charismatic and engaging even when it seems as if the callous, murderous monster on the charge sheet might actually be an accurate depiction. In his hands, Reeves is also a sympathetic victim of the Army: in their rush to get feet on the ground in Iraq, they overlooked his history; the concerns he expresses to an army psychologist are waved away as an inconvenience.
The variable quality of the actors going head-to-head with Collins tends to dampen some of the play's impact. The best is David Calvitto, playing two very different defence lawyers – one civilian, one military – who each muddy their dealing with their client with their own personal viewpoints.
Daniel Bowerbank's pastor – himself a recovering alcoholic, and with a line in dry humour that verges on inappropriate – offers a change of tone in a play which otherwise invites us to descend into hell with its central character.
All this plays out on a suitably in-the-round stage design by Duncan Henderson, lit by Tom Turner's rings of light that provide a sense of physical and mental claustrophobia.
There are several moments in the generally taut play that perhaps could tighten up. The final scene bears the brunt of these, and although that has a narrative purpose it does somewhat dampen the emotional impact of the play's climax.
Nevertheless, Cain's writing highlights the callousness of war, the brutality it demands of participants, and the horrors when that brutality is realised. Thanks in no small part to Collins's performance, 9 Circles is a magnificently disturbing, compelling, essential watch.
Pocket Size Theatre
4 Stars out of 5
We assume that wars are fought to protect a civilised and peaceful existence; unfettered by those who seek to destroy the lives we choose to live; but what about the men and women who are trained to achieve this objective. Do they understand who and what they are fighting for? Do they obey the command of their masters and assume morality is on their side? But are they simply state-trained killers indoctrinated by the preferred narrative. What really is the effect on soldiers who are programmed to kill the enemy? This intriguing play by Bill Cain explores these themes in forensic detail and delivers more than a hint of inconvenient truth.
The story begins in Iraq as soldier Daniel E. Reeves (Joshua Collins) is about to receive an honourable discharge. He verbally spars with his Lieutenant (Daniel Bowerbank) at the real meaning and both settle on a personality disorder. He later wakes up in a cell back in the US. The Public Defender (Samara Neely-Cohen) informs him of charges relating to his conduct in Iraq. Reeves falls deep into a mind fog as he tries to make sense of what has happened. The Defence Attorney (David Calvitto) is convinced he can get an acquittal if only he plays ball.
9 Circles is a harrowing but totally compulsive study of the human condition and fragility of mental health in combat conditions. Upstairs at the Park Theatre is a tight and claustrophobic space perfectly suited to the play's mood. A circular stage lit above with a smaller beam heightens the tension as each stage of the narrative approaches. A superlative cast all sweat to make the characters work within the plot, but Joshua Collins is outstanding as the damaged Daniel Reeves. He remains on stage for the entire 90 minutes of the play and easily handles a character heavily laden with dialogue. Joshua is word perfect with well-judged mannerisms that make the character truly authentic.
We all have a clear notion of the wars that are justified and those driven by open hostility. But members of the armed forces have no choice in the wars they fight. The psychological wear and tear are thankfully recognised as a debilitating condition. It inevitably involves a loss of one's own goodness and humanity; that in itself is a shocking realisation. A powerful tale told with a great deal of emotional intelligence.
Islington Citizen
By Sarah Birch | Tuesday 5 July 2022
Joshua Collins (left) is 'gripping' in the lead role. Photograph: Mark Douet
The war in Ukraine has once again focused our attention on who is to blame for horrific atrocities that are committed in the context of war.
To what extent are human rights abuses in Bucha and elsewhere the fault of Vladimir Putin, who ordered the invasion? Or his officers, who oversee it? Or the individual soldiers who carry out heinous acts? Or Russian society at large that may perpetrate views of people from other countries as less worthy of respect?
Bill Cain's play 9 Circles, making its European debut at the Park Theatre, takes up these questions in the context of the Iraq war.
The drama, directed by Guy Masterson, explores what Hannah Arendt called the 'banality of evil' – the accrual of seemingly mundane bureaucratic decisions that come together to create the conditions for a sociopathic soldier to commit war crimes.
Joshua Collins in the lead role of Private Daniel Reeves gives a gripping performance as a man struggling to come to terms with the concepts of guilt, justice, empathy and self-worth. Through his descent into the hell of criminal proceedings, we absorb the moral dilemmas of his situation.
This moving production is a must-see for those with an interest in politics, war, and everyday social responsibility.
London Theatre Reviews
3 Stars
A thriller based on real events
02 July 2022
by LTR
This well-performed production of a complicated play comments on the true story of the Mahmudiyah rape and killing of a 14-year-old Iraqi child and her family by United States Army soldiers in 2006. The title and scene structure of Bill Cain's play is inspired by Dante's Inferno and parallels the descent into the nine circles of hell.
Throughout the nine scenes, we journey through time and location. From a US Military Base in Iraq to a Holding Cell in the States, a Federal Prison in Oklahoma, back to Iraq, then to a US courtroom, prison, and eventually hell itself. Surprisingly, its form holds up in spite of a barren set and minimal props and costume changes.
The cast is comprised of four actors, three of whom form a company that juggles dual roles. The fourth actor, Joshua Collins, remains onstage the entire 90 minutes playing Daniel E. Reeves, the "scapegoat" soldier in the aforementioned hearing. Collins is impressive as Reeves, bringing incredible energy and volatility to the role. At certain points, however, nuance was sacrificed for volume and front-footed intensity that detracted from the character's humanity. Some of Collins' strongest work was saved for the final moments of the piece where a beautiful simplicity was achieved.
Samara Neely Cohen was likewise impressive and moving as the prosector and David Calvitto, in both his parts, brought great clarity and balance to the piece. Often throughout but especially in the first part of this production, the volume of all the actors and Jack Arnold's sound design was unnecessarily loud. Director Guy Masterson has carefully navigated this theatre in the round so there is not a bad seat in the house. Furthermore, this production's 90 minutes are well-paced with rapid transitions.
At times, this play is slightly too on the nose for its own good and because it centres on Reeves, feels somehow imbalanced in its ethical appeals to an audience. That said, the play does ask important questions about the value of war in light of its consequences. It demands important reflections about the standards and screenings army officers receive (or do not) when they enlist. And particularly with this story, it explores the camaraderie of soldiers, many of whom enlist as lost boys, and are transformed and forever altered by their community in the service. The piece effectively flags the harm of unquestioned loyalty and groupthink. And at its most poignant, confronts the hubris of a soldier with the lie of a misguided war.
Runs through 23 July at Park Theatre after which it transfers to the Edinburgh Festival Fringe.
British Theatre Guide
Bill Cain
Collins Cohen Productions and Guy Masterson—Theatre Tours International Ltd in association with Park Theatre
Park 90
29 June–23 July 2022
Joshua Collins as Daniel E Reeves and Samara Neely-Cohen as Public DefenderCredit: Marc DouetDaniel Bowerbank as Pastor and Joshua Collins as Daniel E ReevesCredit: Marc DouetJoshua Collins as Daniel E Reeves and Samara Neely-Cohen as ShrinkCredit: Marc DouetSamara Neely-Cohen as Shrink and Joshua Collins as Daniel E ReevesCredit: Marc DouetJoshua Collins as Daniel E ReevesCredit: Marc DouetDavid Calvitto as Defence Attorney and Joshua Collins as Daniel E ReevesCredit: Marc Douet
For the second time this week I was faced with a stage marked out with a circular blue disk with a matching ring of blue light above it, but when the play began with the roar of a helicopter's blades and the light changes colour, that tranquility is gone. 9 Circles: think Dante's Inferno. This is a descent into Hell for young soldier Daniel E Reeves.
A grunt out in Iraq, he is being given an Honourable Discharge, but it makes him feel that he has done something wrong. It will turn out he had problems, went to see an army psychiatrist and was diagnosed with a personality disorder.
"Some things don't bother me the way they bother other people," he tells the Lieutenant discharging him, "The basics, sir: killing people." His rearing and indoctrination has taught him that, in war, people are supposed to die.
Months later, back in the USA, he's with a lawyer. At first, he thinks it's a traffic accident he is up for. He admits, "I was drunk, I was driving." But this is about something that happened in Iraq: the killing of civilians, the shooting of a whole family and rape of a young girl.
There are parallels with the case of actual US soldier Steven Dale Green, sentenced in 2009 for similar killings, but Daniel's descent into Hell is different and is strikingly played by Joshua Collins. This isn't a portrait of a psychopath, nothing so simple. It was he who sought help from the psychiatrist. He's upset about the killing of a dog yet claims not to care about the girl, yet her killing he did as a sort of kindness and he showed compassion to his dying sergeant until the last moment.
9 Circles premièred in the States 12 years ago, but this is the first European staging. Director Guy Masterson delivers an in-the-round production that produces a powerful empathy. We can't get inside this boy's head, except perhaps in his final moments, we have to watch from outside, but it makes watchable theatre.
Duncan Henderson's setting and Tom Turner's lighting concentrate the attention like a microscope and the other characters, so useless in supporting him, get fine supporting performances. Daniel Bowerbank's alcoholic Pastor, Samara Neely Cohen's psychiatrist and lawyers and David Calvitto's two attorneys play their part in Daniel's story then back out again. They are not just ciphers, but they never take attention away from him. It is a nineteen-year-old private who is in the dock, not the recruiters who saw him as soldier material, not his officers, not the Generals, not the politicians who put him in Iraq in the first place.