DAISY
BEATTIE (Puppetry Supervisor, Maker and Puppeteer)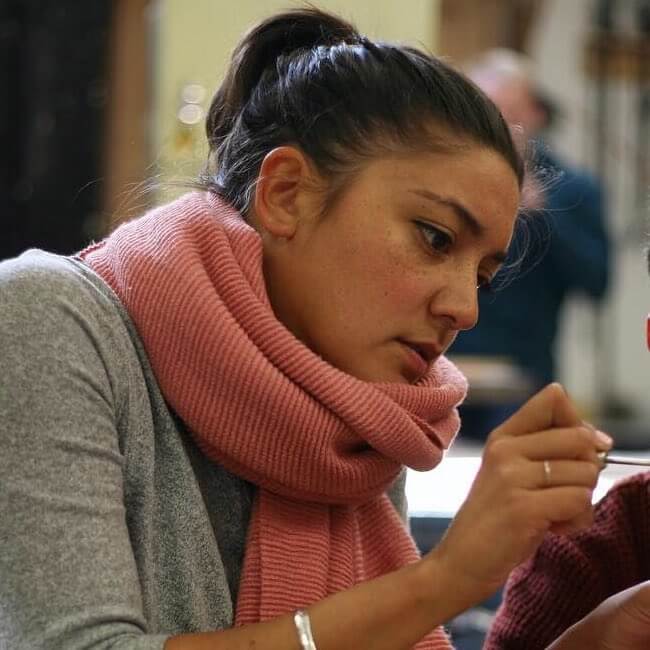 Daisy's passion in puppetry lies in exploring exciting avenues for storytelling and visual communication, creating unique experiences for wider audiences of all ages in theatre, film and television.
Influenced by puppets from a young age, the fascination with the ancient craft developed into a career focused on learning innovative technology, whilst also looking back at history and tradition in the art of making puppets and their use in communicating both complex emotions and simple narratives. This is what makes puppetry so powerful in her opinion.
Daisy enjoys collaborating with companies and individuals who want to explore new ways of bringing puppetry into performances that would not normally use puppets. This background of puppet designing, making and puppeteering has led to the development of the role of puppet supervisor for theatre productions.
Daisy is an associate of the theatre company Gyre & Gimble and shares their testimonial to 'place puppetry at the heart of storytelling'.
THEATRE
| | | |
| --- | --- | --- |
| Animal Farm | Fiery Angel Entertainment | Puppet Supervisor & Maker |
| 101 Dalmatians | Regent's Park Open Air Theatre | Puppet Supervisor & Maker |
| The Wolves in the Walls | Little Angel Theatre | Puppet Supervisor & Maker |
| The Ocean at the End of the Lane | National Theatre | Puppet Supervisor & Maker |
| Mr Gum and the Dancing Bear | National Theatre | Puppet Supervisor & Maker |
| Vivaldi's The Four Seasons | Shakespeare's Globe | Puppet Supervisor & Maker |
| Pinoccho | National Theatre | Puppet Supervisor & Maker |
| Peter Pan | National Theatre | Puppet Supervisor & Maker |
| Imaginary Menagerie | Les Enfants Terribles | Puppet Supervisor & Maker |
| A Very Old Man with Enormous Wings | Little Angel/Kneehigh | Assistant Puppetry Director |
| As You Like It | Shakespeare's Globe | Puppet Maker |
| The Wizard of Oz | Birmingham Rep | Puppet Maker |
| Don Quixote | Royal Shakespeare Company | Puppet Maker |
| The Grinning Man | Bristol Old Vic | Puppet Maker |
| A Very Old Man with Enormous Wings | Little Angel/Kneehigh | Puppet Maker |
| Circus 1903 | Significant Object | Puppet Maker |
| Luzia | Cirque Du Soleil | Puppet Maker |
| Running Wild | Regent's Park Open Air Theatre | Puppet Maker |
| Gruffalo | Tall Stories | Puppet Maker |
| A Christmas Carol | Chichester Festival Theatre | Puppet Maker |
| Avenue Q | Q Puppets | Puppet Maker |
| Dead Dog in a Suitcase and Other Love Songs | Kneehigh | Puppet Maker |
| Room on the Broom | Tall Stories | Puppet Maker |
| War Horse | Handspring/National Theatre | Puppet Maker |
| 3/6 Salute for The Queen's Jubilee | National Theatre | Puppet Maker |
| The Crane Maiden (Ballet) | Will Tuckett | Puppet Maker |
Film/TV
| | | |
| --- | --- | --- |
| Jurassic World: Domination | Amblin Entertainment | Puppeteer & animatronic puppeteer |
| The Dark Crystal | CPTC/The Jim Henson Company | Puppeteer, animatronic puppeteer & creature suit performer |
| Star Wars: Episode VIII - The Last Jedi | Walt Disney Pictures | Puppeteer & animatronic puppeteer |
| Solo: A Star Wars Story | Lucasfilm | Puppeteer & animatronic puppeteer |
| Live Meerkat Interview | Today Show (Australia)/Passion Pictures | Animatronic puppeteer |
| Cracked Screen | Motorola/Passion Pictures | Animatronic puppeteer |
| Rock, Paper, Scissors | Google | Puppeteer |
| TV Advert | Dolmio | Puppeteer |
| Switched on Families | Virgin Media | Puppeteer |
| Yonderland | Sky | Puppeteer |
| Muppets Most Wanted | Jim Henson Company | Puppeteer |
| Misfits | E4 | Puppeteer |
| Sock TV | Cartoon Network | Puppeteer & ident voice |
Educational
| | | |
| --- | --- | --- |
| Puppet Making Course | Gyre & Gimble | Associate Artist & Course leader |
| Puppet Making Course | National Theatre | Course leader |
| Soup Night | The Curious School of Puppetry | Organiser & facilitator |