Rebekah Hinds stars in Oklahoma! at the Young Vic ★★★★★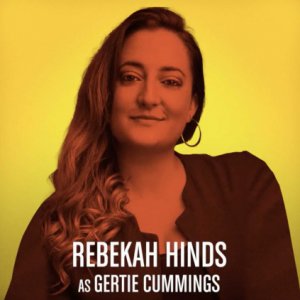 'The earthy laughter of Rebekah Hinds' sassy Gertie is still ringing in my ears' Read the full The Times review of Oklahoma!
★★★★
"Stripped back version is the best revival yet"
"After triumphing at the Tonys, this pared-back production comes to London"
"A mixed-heritage cast in modern-ish costumes share a starkly-lit plywood set – suggesting a dancehall but ringed with rifles – with both the band and the audience. Some idiot culture-warrior will doubtless call it WOKE-lahoma which is a) stupid, given that native Americans are still airbrushed out of the story and b) spoiled as a joke now, because I made it first."
"Overall, it's a stunning reinvention by directors Daniel Fish and Jordan Fein, although their radicalism very occasionally feels laboured. Similarly, Terese Wadden's costumes skilfully blend modern attire and 70s Western pastiche garb, until the big dance scene, where she puts the women in hideous mini-crinis, that'd be laughed off the floor of most modern line-dancing clubs."
"Punchy, playful and sexy, this Oklahoma! is an absolute knockout"
"First seen in New York, this revelatory production, now at the Young Vic, interrogates the landmark musical to within an inch of its life"
"Experimental in feel, it strips things back to reveal tough personalities, strong sexual drives, few creature comforts and violent impulses sprouting amid sun-kissed corn fields. In place of a lavish orchestra, the score has been brilliantly reinterpreted so the music, delivered by a small band, offers instead a homespun folksiness. That has evident charm, but Fish interrogates Oklahoma! to within an inch of its life, bringing out its darkness, indeed plunging spectators fully into blackness at points, and sounding its complexities."
★★★★
"This radical Rodgers & Hammerstein revival lives up to the thirsty hype"
"I'm struggling to think of a hornier theatre production than Daniel Fish's radical revamp of Rodgers & Hammerstein's 1943 musical 'Oklahoma!'.
"A big pre-pandemic hit in New York – where it was dubbed 'sexy Oklahoma!' – the first half in particular of Fish's deceptively barebones production leans really creatively into the fact that very little happens in 'Oklahoma!' beyond its characters thirsting after each other, and thirsting hard."
"Crucially, it's very well cast. Lucas is wonderful as the flinty-eyed but vulnerable Laurey; Wallace is a wellspring of good vibes and vocal powerhousing as Annie. Darvill hits just the right note of ambiguity as Curley – charming, yes, but entitled and mean to returning US cast member Vaill's excellent Jud. Also returning from the US, Davis is a rubbery-bodied dream, bounding about the stage as the blissfully dopey Will. Crucially, Fish has allowed the Annie love triangle plot to stay funny and sweet and largely unaltered – you can radically revamp a show while holding on to the bits that work just fine."
★★★★
"An invigorating take on Rodgers and Hammerstein's classic"
"This modern, sexy and unsettling show injects thrills into a familiar musical, making it feel newly minted"
"How to rewrite Rodgers and Hammerstein's classic musical without changing a word? It turns out all you need do is make us really watch, and really listen. In immersing the audience in the action (with some spectators sat at stage-side tables) and highlighting tricky scenes and characters that are often hastily brushed over, directors Daniel Fish and Jordan Fein have created a modern, sexy and unsettling show. And as for the music? The score sounds so revitalised it might've been written yesterday."
★★★★
"Stark and sparse – Oklahoma with a snarl"
"Curly's relationship with Laurey – a captivating, unsmiling Anoushka Lucas with a voice like gold – doesn't come across as lush and romantic but slightly dark and dangerous. They're certainly made for each other. As dislikeable as they are, they still swoon with romance in People Will Say We're in Love."
"This isn't simply dusting off a classic or giving it a spit and polish, it's a complete dismantling of the show. It's hard not to long for the good cheer we're all so used to – it makes us feel, still, but in a different way. Uncomfortable, mostly.
"When the final number comes – "Ooooooklahoma where the wind comes sweepin' down the plain" – there's no joy. It's a deeply discomfiting moment, the climax of a production that starts with community and ends with complicity, twisting those two strands more and more tightly together until they can't be undone."
★★★★
"A thrilling reinvention that swaps the twee for sex and danger"
"No corn-fed hokey here – this production is tense and freshly thrilling"
"Arthur Darvill's guitar-twanging cowboy Curly, swaggering in crotch-enhancing fringed chaps, sings a bluegrass rendition of famous opener "Oh, What a Beautiful Mornin'", while sharp eyes under Stetsons and baseball caps look on."
"This is a raw refashioning both of a cherished show and American mythology: ingenious, and freshly thrilling."
★★★★
"Stirring singing in a reworked classic"
"In the final moments, Arthur Darvill's Curly, decked out in a white suit and wielding a guitar, could be channelling the ghost of Hank Williams. The singing by the rest of the cast is never less than stirring. Marisha Wallace takes the honours as the gospel-tinged, sexually voracious Ado Annie."
"Some of the tweaks work better than others. The dream ballet, choreographed by John Heginbotham, becomes a clichéd modern dance feature for Marie-Astrid Mence, Hendrix-style guitar swamping the pedal steel. Elsewhere, the harsh, institutional lighting, only occasionally dimmed to shades of red, makes it hard to focus on the characters, especially with the audience sitting either side of the cast."
"James Davis, as the dim-witted Will, makes the most of his comic moments alongside Stavros Demetraki's Persian pedlar, Ali Hakim. Liza Sadovy is memorably stern as Aunt Eller, and the earthy laughter of Rebekah Hinds's sassy Gertie is still ringing in my ears."
★★★
"An innovative but unsettling revival of the classic American musical"
"Rodgers and Hammerstein's 1943 romance comedy gets a dark reimagining"
"For all the joy brought by Ado Annie's interactions with her suitors, the atmosphere can turn cold in an instant, unsettling the nerves and making you wish for a speedy return to the levity."